R E A D I N G
I'm still reading Elizabeth is Missing by Emma Healey. It's a really good book! I'm 70% through it and am really enjoying it. I don't have any idea where it is going though and I'm excited to find out how it will end! I'm hoping to finish the book either tonight or tomorrow and will post a review during the week!
W R I T I N G
Another assignment is on the cards! But it is my last one! Yay! I'm not doing much writing apart from that! I'm considering writing an open letter to my anxiety because it has been a pain  in the ass lately. As with all mental health issues, exhaustion doesn't help! And I have been seriously run down. To the point where I've just broken down in tears because I hadn't the energy to do anything else! And so, as a consequence to my exhaustion, my anxiety has raised it's ugly head and resurfaced. Perhaps it would be a nice idea to let it all out sometime soon…
L I S T E N I N G
I am loving, loving, loving Harry Styles and Niall Horan's new music!! As a 28 year old I probably shouldn't be too into them but I honestly don't care! They make me feel good! Here are some of the songs that are making me smile lately:
S M E L L I N G
Lavender Oil (to calm me down) and freshly washed hair!
H O P I N G
To get my assignment over and done with and with as little stress as possible so my course will finally be completed!!!
W E A R I N G
I took part in Darkness Into Light this weekend for Pieta House. It's a 5k walk to raise awareness around the issues of mental health, particularly depression and suicidal ideation. The walk takes place at 4.15am and as you walk the sun rises, symbolising that there is light after the darkness. It was a very powerful walk and one I am so glad to take part in. I'm currently wearing the t-shirt I received for the walk.
L O V I N G
I am loving my new purchases. I've been trying to try out new make up instead of sticking to the brands I always use. I've branched out and bought some new items and I'm loving stepping out of my comfort zone! The Real Techniques sponge literally makes my make-up flawless. Such an amazing buy and it was only €7.99!
I've also invested in an electric toothbrush and it is unbelievable! I'm going to be getting braces soon enough (which terrifies me completely) so I'm trying to take extra good care of my teeth in the lead up to the big day….! I bought this Oral-B Pro 3000 and it's so good! It has three settings; regular brushing, sensitive mode, and gum care. There is a light that goes off when you're applying too much pressure on your teeth to prevent damage, and it also has a timer to let you know how long you should be spending on each quadrant of your mouth! I don't think I could ever go back after investing in this!
F E E L I N G
I suppose I've already said that I've not been the best. It's been a really rough two weeks because I've been feeling burnt out and as a result my anxiety has been a pain in the ass! I went away for the night last night in an effort to clear my head and get back in a good place, and while it was amazing to escape, as soon as I came home something came up that triggered my anxiety again. I had been feeling amazing today; really relaxed and calm and able, and it was all shot to hell. So I've been sitting on my bed, focusing on this blog post and trying to come up with a pro-active plan to take care of myself in the week ahead.
 W A T C H I N G
In an attempt to boost my mood I've put on 13 Going On 30. I was thinking of it as I drove home today because I was listening to some old music in the car. The scene where Jenna is dancing in her bedroom to old music came to mind and I knew I just had to watch it when I got home! It's such a feel good, embrace life, kind of movie and that's exactly what I need at the moment!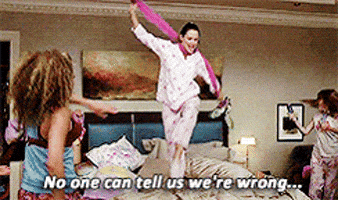 Source
If you have any tips or tricks to help me shake this funk please let me know! I would be very grateful!
Sending love,
C x